It's no secret. The Spin-Clean® Record Washer quickly and effectively cleans both sides of any record simultaneously without using your turntable as part of the process. Your albums and singles will last longer and sound better than ever, while your turntable and stylus are saved from needless wear and tear.
Our Secret Advantage
What is our secret weapon, however, is Spin-Clean® Record Washer's special alcohol-free washer fluid. This special formula encapsulates the dirt that comes off the record from deep within the record grooves and sinks it to the bottom of the washer basin, so it is not re-deposited back on to your valuable LPs and 45s.
Why is Spin-Clean bright yellow? We chose bright yellow for the color of the Spin-Clean so you can see the dirt collecting at the bottom of the unit.
At the instant of contact how can you tell that you're pushing hard enough? If you have enough liquid on your brush, is it removing smudges and fingerprints? With the Spin-Clean® Record Washer, it's easy as one, two, three. Fill it, spin it, and dry it! You never have to adjust the brushes (they're pre-set at the right pressure). After three turns in the Spin-Clean® record washing system, the dirt and the fingerprints are gone on both sides of the record along with the static. You can not only see the Spin-Clean® Record Washer work, but you can also hear the difference in sound. Listen as your old records move toward that "brand new" type sound, and marvel at how your new records will unlock their true high fidelity.
The Right Stuff
The Spin Clean® Record Washer looks and feels right. It's inconspicuous in size (six inches wide by fifteen inches long and six inches high) with no power requirements, making it the "greenest" record cleaner in the industry. Best of all, no installation makes it the most flexible and attractive record cleaning package on the market.
Made in the USA
We feel that in today's marketplace it is very unusual to find a product in this price point that is not made in China. We are very proud to be "Made in the USA." The Spin-Clean® Record Washer has been manufactured and hand assembled in the U.S. since 1975. If you have any questions about your Spin-Clean®, you can email your question to a Spin-Clean Expert using the form on our CONTACT page or you can call us directly at 1-800-931-5850.
Corroborating Evidence
FIDELITONE INC., worldwide manufacturer and distribution of fine record and video accessories, tested the Spin-Clean® record washing system for RCA Records in 1976. The test results were remarkable! After Spin-Clean® record washing system had been used, output sensitivity was substantially increased. Channel separation was increased and amplified record noise was reduced. AUDIO MAGAZINE, a leading Hi-fi magazine, tested Spin-Clean® record washing system and found it to be excellent as a record cleaning device. They found this unit to be one of the most efficient record cleaners for dirty records.
Mobile DJ, Phil Schomer of ALEXANDER'S GRAHAM BELL, one of Pittsburgh's top singles spots featuring live entertainment, professed: "Spin-Clean® record washing system is the only record cleaning system I'll use, because I found it to be the most effective in removing smoke and other dirt without a buildup of residue on my cartridge and records. Now my discs always sound new and crisp."
STEREO MAGAZINE, the nationally recognized leader in stereo equipment publications, stated "There's no question that the Spin-Clean® record washing system does remove surface dirt and fingerprints." The reviewer went on to say, "After processing a dozen or so discs, the solution was clouded with minute bits of debris, and the discs themselves looked a lot cleaner." He also remarked how a few of his children's collection, which had been really dirty, played a lot cleaner". Finally he said, "If one has some very dirty discs, Spin-Clean® record washing system is certainly one way to clean them.
The Spin-Clean Story
How It All Began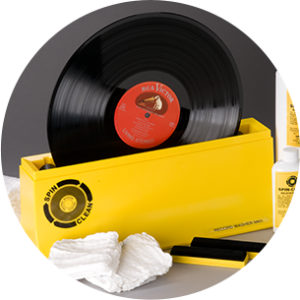 The Spin-Clean story began in Chicago around 1974 when Fidelitone Inc., a manufacturer that sold record needles and other record accessories to retailers, created a record cleaning device called " Spin 'n Clean." Fidelitone's intentions were to try to market their record cleaner in all of the big box stores where they would pile them up on the floor in the now very seventies-looking colorful boxes, which you can see pictured on this page. They also made the product available to record stores throughout the US. One of their most successful independent record retailers was a company in Pittsburgh, Pennsylvania owned by Paul C. Mawhinney (my father) called Record-Rama Sound Archives. When you walked into Record-Rama in the mid-seventies, the first thing you saw on the counter was the Spin 'n Clean Record Washer. We learned that if you demonstrated it, it would sell, and sell it did.
When Fidelitone contacted Record-Rama and announced their decision to discontinue the product because it would not hang on a pegboard and sell itself, my father emphatically responded, "You can't do that! We sell tons of these!"
Breathing new life to this amazing vinyl record cleaning device, he then bought Spin 'n Clean and began manufacturing the product in Pittsburgh in 1975. The newly branded "Spin-Clean Record Washer" became available to vinyl collectors and consumers nationwide through an established network of record dealers and was also sold to many libraries in the U.S.
"I began my career in the retail audio business in the late seventies and always told my father that if he ever retired or got out of the record business, I would be interested in Spin-Clean. I felt it was a terrific product and thought it fit nicely into the audio business. In late 2009, my father retired, and Record-Rama was closed. In October of the same year, with the help of Chad Kassem, owner of Acoustic Sounds, I introduced the audio buying public and reviewers to Spin-Clean at The Rocky Mountain Hi-Fi Show in Denver. Over the early part of 2010, major improvements were made to every aspect of Spin-Clean, including everything from redesigning and refinishing the molds to developing higher precision rollers to manufacturing fluffier, gentler drying cloths. After 35 years on the market, the new Spin-Clean® Record Washer System started shipping in June of 2010 and is still being distributed all over the world to the delight of audiophiles and vinyl enthusiasts everywhere."