Wondering How Spin-Clean Got Started?
Here's How It All Began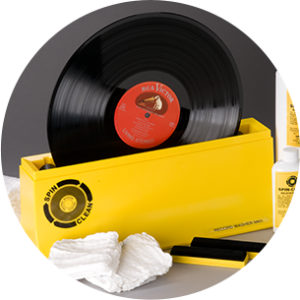 The Spin-Clean story began in Chicago around 1974 when Fidelitone Inc., a manufacturer that sold record needles and other record accessories to retailers, created a record cleaning device called " Spin 'n Clean." Fidelitone's intentions were to try to market their record cleaner in all of the big box stores where they would pile them up on the floor in the now very seventies-looking colorful boxes, which you can see pictured on this page. They also made the product available to record stores throughout the US. One of their most successful independent record retailers was a company in Pittsburgh, Pennsylvania owned by Paul C. Mawhinney (my father) called Record-Rama Sound Archives. When you walked into Record-Rama in the mid-seventies, the first thing you saw on the counter was the Spin 'n Clean Record Washer. We learned that if you demonstrated it, it would sell, and sell it did.
When Fidelitone contacted Record-Rama and announced their decision to discontinue the product because it would not hang on a pegboard and sell itself, my father emphatically responded, "You can't do that! We sell tons of these!"
Breathing new life to this amazing vinyl record cleaning device, he then bought Spin 'n Clean and began manufacturing the product in Pittsburgh in 1975. The newly branded "Spin-Clean Record Washer"became available to vinyl collectors and consumers nationwide through an established network of record dealers and was also sold to many libraries in the U.S.
"I began my career in the retail audio business in the late seventies and always told my father that if he ever retired or got out of the record business, I would be interested in Spin-Clean. I felt it was a terrific product and thought it fit nicely into the audio business. In late 2009, my father retired, and Record-Rama was closed. In October of the same year, with the help of Chad Kassem, owner of Acoustic Sounds, I introduced the audio buying public and reviewers to Spin-Clean at The Rocky Mountain Hi-Fi Show in Denver. Over the early part of 2010, major improvements were made to every aspect of Spin-Clean, including everything from redesigning and refinishing the molds to developing higher precision rollers to manufacturing fluffier, gentler drying cloths. After 35 years on the market, the new Spin-Clean® Record Washer System MKII started shipping in June of 2010 and today, over 45 years later, is still being distributed all over the world to the delight of audiophiles and vinyl enthusiasts everywhere."
Need a Spin-Clean to keep your vinyl records clean?  Order one here.