Spin-Clean® Record Washer MKII Deluxe Kit
MKII-PKG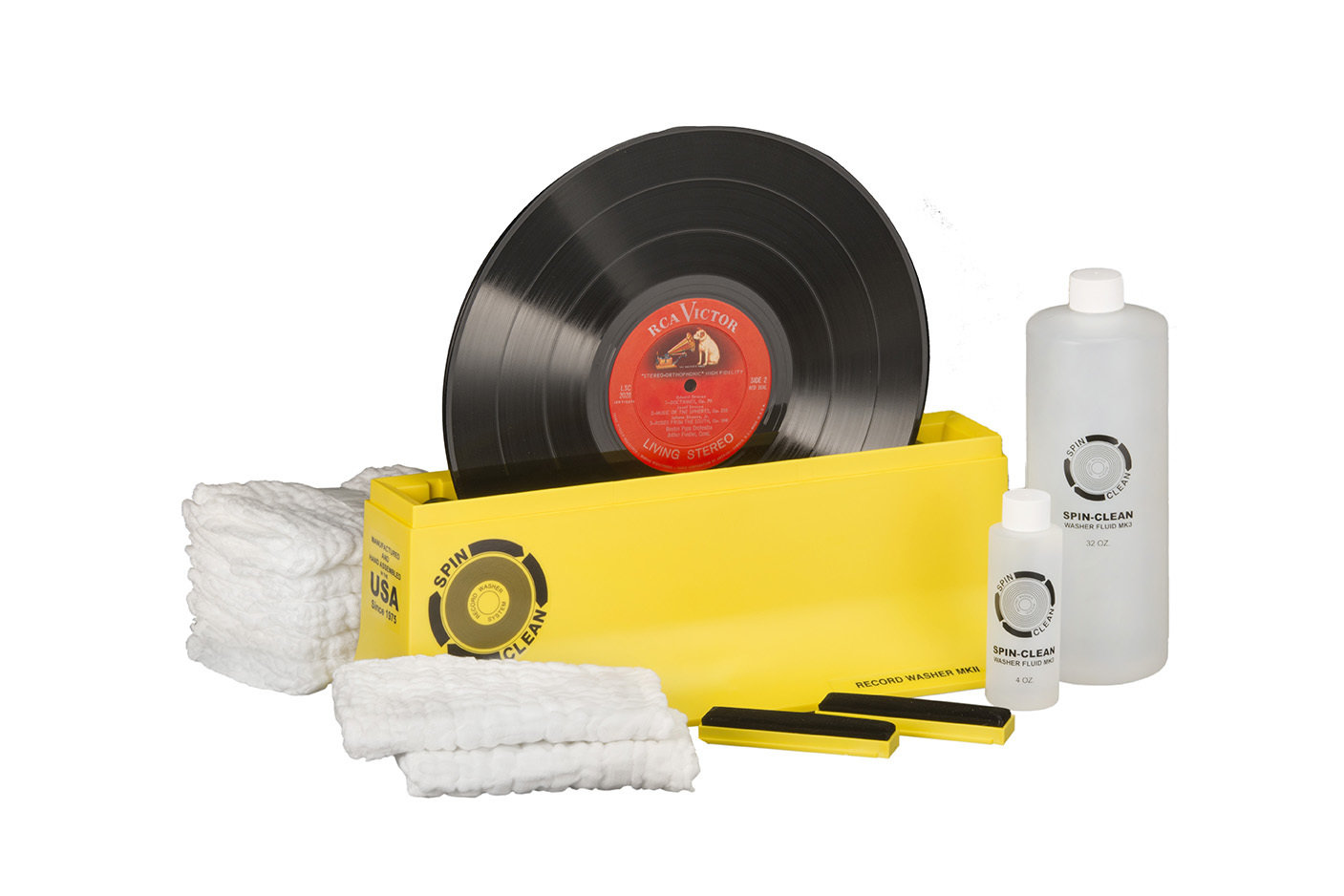 FREE Shipping!
Available Through Our Official Online Store.

Best value! Includes Spin-Clean Record Washer MKII PLUS extra record cleaning fluid, drying cloths, and premium record-cleaning brushes.
Patented

vinyl record washer basin and lid and compact size to allow for easy storage
Two (2) bottles of specially formulated alcohol-free, MK3 vinyl record cleaning fluid (4oz. + extra 32oz.)
Two (2) pairs of premium MKII removable, cleanable, record-cleaning brushes
One (1) pair of durable MKII rollers which can be used to accommodate LPs, 45s, and 78 RPMs
Seven (7) super soft, lint-free drying cloths won't scratch your records
Made in USA
Limited Lifetime Warranty
With the Deluxe Kit, you'll have enough materials to clean up to 6300 records!
With our
patented
Spin-Clean® MKII Record Washer Deluxe Kit, you'll have
everything you need and more
to clean and maintain your LPs. Whether you're a beginner or have been collecting vinyl records for years, the MKII is incredibly effective, easy to set up and use, and offers tremendous value.
Please note that our carrier, FedEx Ground, DOES NOT ship to a post office box. Please provide us with a valid street address, so that we may deliver your order without issue or delay. Thank you!
Reviews
"I recently bought a spin clean about 2 weeks ago I love it. A lot of records I had would skip after using this system they play perfectly." - Chad C.
"I love my Spin clean. I set aside time to do batches of 50 records and then clean out the basin. Vinyl sounds like it's new again!." - Todd P.
"Very happy with my spin clean. Had it for about 2 years and run all my newly acquired records (new and used) through it with great results." - Patrick M.
"I received mine for Christmas and I love it. Did the before & after test on a 30 year old album. Fantastic!" - Ross S.
"I love mine, I've got 50 year old records that sound brand new. I don't even like listening to new records before cleaning them now. This is a must own for any record collector." - Chad H.